A child-friendly ambiance refers to an environment that is safe, welcoming, and supportive for children. It promotes their physical, emotional, and social development, fostering a sense of security and belonging.
Engagement-based learning refers to a teaching approach that focuses on actively involving students in the learning process, promoting their curiosity, critical thinking, and problem-solving skills through interactive and collaborative activities.
Qualified trained staff refers to professionals who have received appropriate education, training, and certification to perform their job duties effectively, efficiently, and safely, ensuring the highest quality of service delivery.
Safety protocols refer to established measures and procedures designed to prevent accidents, injuries, and illnesses in a given environment. They include policies, guidelines, and training aimed at promoting a safe and healthy place for your kids.
To ensure that the teacher is able to give your child individual attention, we keep our batch sizes small to maintain a student & teacher ratio of 10:1
We ensure to provide a balanced and nutritional food with essential nutrients, fibre, vitamins, and minerals required for maintaining good health and boosting immunity. Our balanced vegetarian diet is rich in whole grains, fruits, vegetables, proteins, and healthy fats.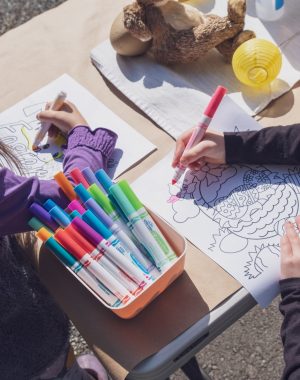 Teaching Methods and Curriculum Design
At our kids' school, we believe that effective teaching methods and a well-designed curriculum are key to providing a high-quality education. Our experienced teachers use a variety of research-based teaching methods to engage students and help them develop critical thinking, problem-solving, and collaboration skills. Our curriculum is carefully designed to meet state and national standards and to challenge students academically. We also offer a range of extracurricular activities to help students explore their interests and develop their talents.
 At every step, we strive to create a supportive and inclusive learning environment where every child can thrive.
Food is not only a source of energy and fuel for our bodies, but it also plays a crucial role in maintaining our health and wellness. At our school, we recognize the importance of a balanced and nutritious diet in promoting the physical and mental well-being of our students.
A healthy and balanced diet consists of a variety of foods from all the food groups, including fruits, vegetables, whole grains, lean proteins, and healthy fats. By incorporating a variety of these foods into their diet, students can ensure that they are getting all the essential nutrients they need for growth, development, and overall health.
In addition to providing essential nutrients, a healthy diet can also help reduce the risk of chronic diseases such as diabetes, heart disease, and obesity.